PTPA Media (Parent Tested, Parent Approved) has listed the HEXBUG Ant as one of its Top 5 Toy Picks this year.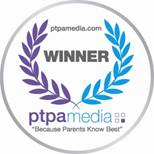 This autonomous, high-speed micro robotic creature with probing, tactile antennas and hooked claws. The industrious critter features front and rear touch sensors that allow it to maneuver around objects in its path and wheel-legs that propel it forwards, backwards and over small obstacles with furious speed.
Check out the other picks over at their site.